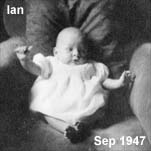 Ian William Goodall was born on 6th June 1947 in Newmarket, Suffolk to Mary Robson, who had been widowed in 1946. She had moved south from Aberdeenshire to be a domestic servant to the Cunliff family in Newmarket and was already pregnant by William Milton Glass (died 15th June 1990), a married man. Ian was adopted, in September 1947, by Bill and Moira Goodall who lived in Woodford Green, Essex. Ian has a sister, Moira Margaret, born 1st June 1949. The family lived in Woodford Green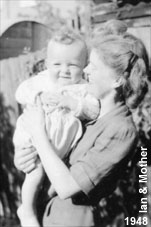 until 1953 when Dad's job, as an excise officer, took them to Bonahaven (Bunnahabhain in gaelic) on the Isle of Islay, off the west coast of Scotland. Ian went to primary school in the village, a single classroom with one teacher (Miss Lena Ramsay) and up to 12 pupils of various ages including Iain MacDougall who has remained a friend. After attending Bowmore Secondary School for a year and a half, the family moved to "Primrose Bank", Haughmill Lane, Windygates (on the mainland!) in 1960.
Ian went to Buckhaven High School in Fife, where he was in Balgonie House and played rugby and cricket, captaining the 4th 15 and 2nd 11 respectively. Obtaining 5 'Highers' at the age of 15, Ian won a university scholarship (of £550pa when the grant was £330pa) from Automotive Products. Ian did a pre-university apprenticeship in Leamington Spa then went to St Andrews University (Queens College, Dundee) in 1965 to read Mechanical Engineering. Ian met Sheila in 1966. The rest is history as they say.
In 1996, whilst undertaking research into his roots, Ian discovered, and met for the first time in April 1996, a half-brother, Richard Ashley (born 2nd July 1948) who now lives in Honley with his wife Cate. Richard's father, Rick, married Mary Robson (born 15th May 1926; died 30th September 1996) in 1948. Ian also has another half-brother and half-sisters, the children of William Glass, including Sheila Garden who lives in Aberdeen.