Bill was born William Motion Goodall on 30th May 1914 in Ilford, Essex to William Simpson Goodall and Kate Kennedy Young Motion, his parents having moved from Scotland to London about 1905. Bill's father, who worked for the Cannon Brewery in Clerkenwell for the whole of his working life, was posted in the First World War to Grantham and York. Bill's sister Catherine Wyatt was born in York (at 60 Havelock Terrace) on 5th January 1919, just before his father was demobilised.
Bill excelled at cricket and football, captaining teams at school and of former pupils ('Old Parkonians'). He joined the Crown Agents in June 1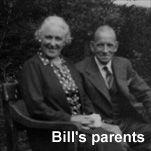 931 and transferred to the Customs and Excise in 1935. Bill and Katherine Moira Davie were married for only four months when war was declared and they lived in a new flat in Wanstead until transferred by the Customs and Excise to Liverpool.
Bill and Moira remained in Waterloo, Liverpool until he volunteered for Aircrew duties in the RAF. After training in the UK and the USA, Bill qualified as a navigator and was posted to 620 Squadron at Chedburgh near Bury St Edmunds in June 1943 for night bombing operations. On his 6th operation, on 25th/26th July 1943, his Stirling bomber took off for Essen but was shot down by a night fighter over Holland. Hit in the starboard wing which caught fire the crew, with the exception of their pilot John Patteson ('Jack') of the Royal Canadian Air Force who was killed saving his crew, abandoned the aircraft by parachute.
By mid-August 1943 Bill was in the Centre Camp of Stalag Luft III in Poland from where two famous escapes - the "Wooden Horse" and "The Great Escape" - took place. Bill remained a POW until May 1945 when he was returned to London on 28th May 1945 where he was met by his wife Moira at Paddington station and 'the long ordeal' was over.
Having purchased, in January 1948, their first house at 1 Galesway, Woodford Bridge, Bill and Moira moved to Bonahaven on the Isle of Islay in March 1953 where he had applied for
the Excise Officer's job at the most northerly distillery on the island.
In 1970, Bill enrolled with the Open University, and in April 1977 graduated with a BA (Hons) degree at a ceremony attended by his family at Edinburgh University.
Retiring on 29th December 1975, after exactly 40 years in the Customs and Excise, Bill was able to fit in even more golf at Lundin Links in Fife, where he was a member for 40 years. In February 1999 Bill was uprooted by his daughter Moira from his 'cottage' in Drummochy Road, Lower Largo to Cameron House, a residential Home run by The Church of Scotland in Inverness.
Bill moved (flying down with his son Ian by EasyJet via Luton), in October 1999, to Birtley House, a nursing home near Bramley in Surrey, to be closer to his family. As Bill said on leaving Inverness, "I'm entering the next phase of my life". The day after Bill's arrival in Surrey he met his then youngest great-granddaughter, Lucy, for the first time.
In December 1999 Bill moved to a new purpose-built nursing home run by Care UK in the centre of Godalming. He had the best room in Jubilee House with a view of, and easy access to, the lovely garden. Most days Bill enjoyed a pint with his son, Ian, and daughter-in-law, Sheila, out of one of his beer tankards ( Old Parkonians, Bomber Command and golf club prizes). Even if it wasn't replacing lost liquid following a round of golf at Lundin Links Bill really looked forward to his "Websters Yorkshire Bitter" or "Morlands Old Speckled Hen".
Bill received the best care and attention in Jubilee House - the staff could not have been more dedicated or caring. Sadly, on 18th July 2001, Bill passed peacefully away in his room - old age and dementia had finally caught up with him. He will be sadly missed as a Dad, Grandpa and Great-grandpa and by his many friends, some of whom go back to Ilford County High School and 'Old Parkonian' days - 'A Stirling Player and Good Companion' as his favourite tankard says (with apologies for the misspelling on the engraving from 1953). Bill's funeral was held at Guildford Crematorium on 27th July 2001.